Next is the main wheels. These should fit onto the axles easily although one of the guns I built needed me to bend the mudguards outward slightly.This is due to the nature of the moulding process. This is wear the pliers come into play. Put a piece of rag between the plier jaws and the mudguard to prevent damge, although this can look like general damage on the finished pice which is not a problem. Adds to the character.
Dry fit the wheels so that they fit and then glue. When dry glue on the break. This fits into the lug under the carriage with the break pads resting on the wheels.
Then glue the bottom shield extension inplace at the bottom of the shield.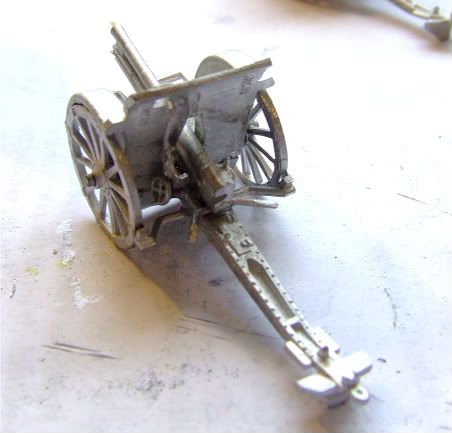 Next glue the seat into position. The kit provides two types of seat. One is complete with the wooden seats the other is simply the bar so that the figures can be glued into posion when the gun is complete. The center lug on the seat bar fits under the gun breach into the carriage. Allow to dry.
Nearly there.
Lastly glue the rear trail bar into place.
Done. Run around the garden whooping and taking hi fives from all assembled neighbours.
In all honestly it is not that difficult but it does take patience.
Have fun.